"I was very impressed with the attention to detail and professionalism that I recieved from Anco Precision. They will always be my first choice for all my machining needs!"
Keith Pardoe - VA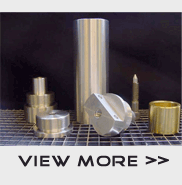 Celebrating Over 37 Years of Contract Manufacturing
Anco Precision Inc. is a family owned and operated contract manufacturing CNC machine shop in Deerfield Beach, FL.
For over 37 years, Anco's objective has been to manufacture at 100% precision. Through strong rapport with all of our customers, we are able to fulfill all of their machining needs. Our team of machinists undergo extensive training to gain the knowledge and experience necessary to operate at 100% precision. With our skilled labor force and state-of-the-art equipment, we provide our customers with great products at the lowest prices.
We are highly experienced in the marine, automotive, medical and aerospace industries.
Our MISSION is QUALITY PRODUCTION MACHINING
Please contact us for more information and quotes, or visit our online machine shop Instant Quote page to submit a drawing file and receive a detailed cnc machining quote immediately.