"I invented a new line of door hardware items and needed a company to help me bring my product line to life. Anco's online machine shop experts helped me refine my designs and they fabricated the prototypes. I highly recommend their company to anyone seeking the services of a top notch machine shop."
Keith Pardoe - VA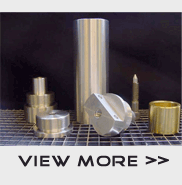 QUICK DROP Line Guides
Removable Outrigger Roller Line Guides
Introducing the first telescoping and non telescoping outrigger roller guides that are removable. Anco Precisionís patent pending system allows you to quickly drop all the line from your outriggers extremely fast and stowaway when not in use. With a couple turns on each QUICK DROP line guide, you can easily remove or install the halyard line extending the life of your gear. Not only does it provide long life but looks great with no tackle on the outriggers when not in use. Also these guides can swivel back and forth no matter what direction the existing eyes are located on the outrigger. This product is made from Starboard and Delrin for longevity in the elements and a stainless steel shaft and stainless steel screws.
Easily remove or install all gear on outriggers with a couple turns.
Patent Pending
Smooth Delrin roller guides.
Swivel design.
Fits all telescoping outriggers with eyelets.
Prevents wear on tackle by removing gear when not in use.
Made from Starboard and Delrin for longevity in the elements.
Color coded knobs Black Knob goes on tip eyelet of outrigger and White Knob goes on other eyelets for ease of installation.
2 Free Line Winders with the purchase of 4 or more line guides.
Made in the USA at Anco Precision Inc.
For Purchasing Click Here.
Click images to enlarge.